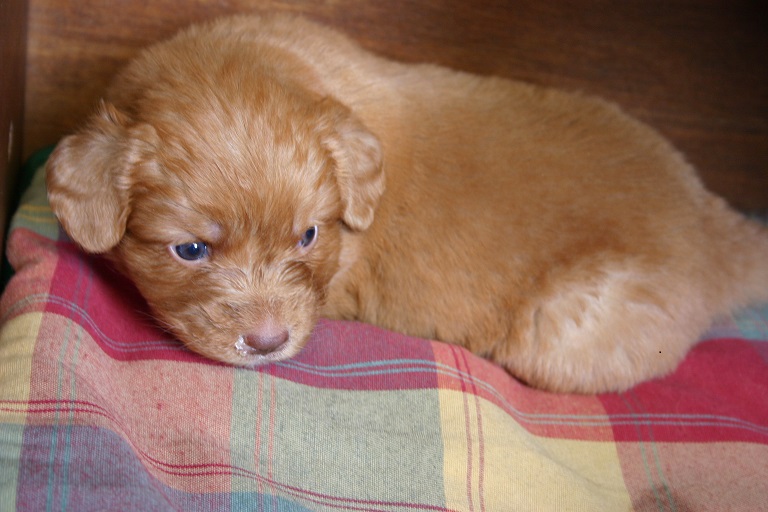 Rhineferry's Star (aka Lexie)
Litters and other obstacles
After the wlk and another cup of coffee, Chris let us know she's confident to commit a puppy to our care. Unfortunately the the waiting list for the next litter was complete already. Esp. Anne showed her disappointment clearly written in her face. Anyway, we decided to wait - the Tollers caught our hearts and we were impressed with the level of due dilligance and long term experience of Chris as a breader. We guess this showed Chris our commitment to become a men-dog-pack.
We followed the Chris' next litter with entusiasm, looked at the picures of the puppies, gained more "knowledge" about being a handler and finally expected the next litter. Finally the next litter approached. We were nominated 2nd for the males. The excitement during the following weeks was unbearable. We eagerly awaited the day we would be able to visit the puppies. On the day of the litter only one male was born. What can you do. Of course we visited the puppies anyway. Chris was deeply affected not to be able to commit a male. Soon it became clear that one femal puppy was left behind. So we seriously evaluated jointly with Chris if we would take the female. But we selected to go for a male for reasons to go for a male. Chris was not confident either and so we decided to wait for the next litter.
Excellent!
We tested our Cullinan for widely spread skeletal dysplasia of Tollers.
The change in DNA sequence responsible for "chondrodystrophy" (CDDY).
The result shows Culli is clear - CDDY: "N/N"