Select a breader
So it should be a Toller. Since all our cats are registered with Tasso, we were warned against dubious breeders and bargain-basement puppies. When we looked around for serious breeders there were registered Toller kennels in Germany, but no breeder was actively planning for a litter. The "toller family" in Germany was obviously dysfunctional. Try to create your own Toller organization away from German Retriever Club (DRC) failed because of the core question, if other breeds must be crossed into Toller in order to increase the gene pool and combat "common" genetic defects within the Toller.
As we live in the Rhineland, it wasn't all that much to far from looking around in neighbouring countries. After some research on the Internet we came across Chris Eelman (Rhineferry kennel). After first contact, we have asked to get to know you and especially your toller because we have never seen a Toller in reality. Soon an appointment for a visit was found.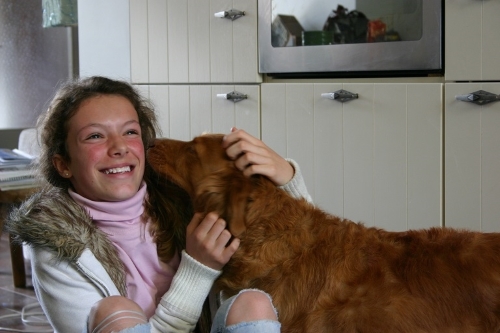 Anne and Toller Sterre
So we took the whole family to Holland, to get to know Toller and to get to the breeder's grilling. In Chris' house we quickly found a common plane and felt in love with the three crazy ladies who whirled around the house their different characters immediately wrapped around their fingers. After a while, Chris offered to take her "girls" for a walk - at below 10°C and fine Dutch drizzle. Since we have an outdoor affinity we were prepared, of course. With rain pants, outdoor jackets and equipped with hiking boots, the trip went to a nearby branch of the Rhine. With growing enthusiasm we raved with Sterre, Dune and Flame on the Rhine meadows, sent the dogs into the water, threw balls and inspired us that these were not only chased, but that the balls were also presidency were returned. We had never experienced anything like this before! While we were busy with the dogs, we gradually realized that not only we got to know our potential breeder, but instead of that we went to the test bench. A good breeder just chooses, who he wants to give a puppy to and in which environment the puppy will come. Every dog is a individual and has its own character. Dog and owner must be to be able to form a team. We could do that after reading "The Wolf in dog fur" well understand.